Posts for: March, 2019
By Carol Haddad, DMD
March 20, 2019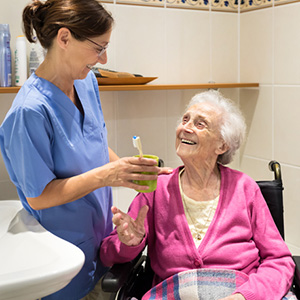 If you're the principal caregiver for an older person, you may have already faced age-related health challenges with them. Good preventive care, however, can ease the impact of health problems. This is especially true for their teeth and gums: with your support you're loved one can have fewer dental problems and enjoy better health overall.
Here are a number of things you should focus on to protect an older person's dental health.
Hygiene difficulties. With increased risk of arthritis and similar joint problems, older people may find brushing and flossing more difficult. You can help by modifying their toothbrush handles with a tennis ball or bicycle grip for an easier hold, or switch them to an electric toothbrush. A water flosser, a device that uses a pressurized water spray to remove plaque, may also be easier for them to use than thread flossing.
Dry mouth. Xerostomia, chronic dry mouth, is more prevalent among older populations. Dry mouth can cause more than discomfort—with less acid-neutralizing saliva available in the mouth, the risk for dental diseases like tooth decay or periodontal (gum) disease can soar. To improve their saliva flow, talk with their doctors about alternative medications that cause less dry mouth; and encourage your loved one to drink more water and use products that help boost saliva flow.
Dentures. If your older person wears dentures, be sure these appliances are being cleaned and maintained daily to maximize their function and reduce disease-causing bacteria. You should also have their dentures fit-tested regularly—chronic jawbone loss, something dentures can't prevent, can loosen denture fit over time. Their dentures may need to be relined or eventually replaced to ensure continuing proper fit and function.
Osteoporosis. This common disease in older people weakens bone structure. It's often treated with bisphosphonates, a class of drugs that while slowing the effects of osteoporosis can cause complications after certain dental procedures. It's a good idea, then, for an older person to undergo any needed dental work before they go on osteoporosis medication.
Keep alert also for any signs of dental disease like unusual spots on the teeth or swollen or bleeding gums. Visiting the dentist for these and regular dental cleanings, checkups and oral cancer screenings could prevent many teeth and gum problems.
If you would like more information on senior dental care, please contact us or schedule an appointment for a consultation. You can also learn more about this topic by reading the Dear Doctor magazine article "Aging & Dental Health."
By Carol Haddad, DMD
March 10, 2019
It might not rise to the level of a miracle, but cosmetic dentistry can achieve some amazing outcomes with unattractive teeth. A skilled and experienced dentist can turn "ugly ducklings" into beautiful "swans." And that achievement might not be as in-depth or expensive as you might think, thanks to the increased use of dental materials called composite resins.
Composite resins are pliable, tooth-colored materials we apply directly to tooth surfaces. They're most often used with broken, chipped or misshapen front teeth—the composite material replaces the missing tooth structure.
Composite resins have been around for decades, but haven't been widely used because they didn't have the strength of dental porcelain. In recent years, though, dentists have perfected techniques for bonding and shaping composites to teeth that have increased their durability. With just the right skill and artistry, composites can look like natural teeth.
We can correct many tooth flaws using composite resins right in our office. After roughening up the outer enamel surface of the tooth and performing other steps to aid bonding, we begin applying liquid resins to form a base layer that we then harden with a special light source. We continue to add layers to increase the color depth and shape of the restoration, before finally polishing it to resemble natural teeth.
Composite restorations are ideal for moderate tooth structure loss, but may not be appropriate for heavily worn, previously root canal-treated or fractured teeth. These and other kinds of flaws may require a different solution such as a dental porcelain restoration with veneers or crowns. Where composites can be used, though, they provide an affordable option that doesn't require an outside dental lab for fabrication—we can often perform it in one visit.
If you'd like to consider a composite resin restoration for a less than perfect tooth, see us for a complete examination and consultation. If your situation appears to be compatible for using this particular technique, composite resins could change your smile for the better in just a few minutes.
If you would like more information on how we can improve your smile, please contact us or schedule an appointment for a consultation. You can also learn more about this topic by reading the Dear Doctor magazine article "Artistic Repair of Front Teeth with Composite Resin."