Posts for: January, 2020
By Carol Haddad, DMD
January 14, 2020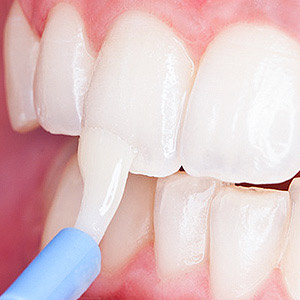 Keeping your child's teeth and gums healthy may sometimes seem like "one step forward, two steps back." You do all the right things like daily brushing and flossing, and keeping sugar consumption to a minimum. But they're still getting too many cavities.
We can add something else to what you're already doing to decrease their cavity rate: apply a concentrated fluoride mixture (stronger than what's found in toothpaste or drinking water) directly to their teeth. Studies have shown that topical fluoride is effective at reducing the risk of new cavities in children at high risk for decay, and may even reverse early decay.
Topical fluoride can be applied as a gel, foam or varnish. The particular method used depends on factors like the child's age or the preference of the dentist. But any of the three methods can deliver a short-term, high dose of fluoride to the teeth.
As a result, the burst of fluoride strengthens tooth enamel against decay, with plenty of evidence of its effectiveness. As such, the American Dental Association recommends periodic topical fluoride applications for children older than 6, and especially those that appear to be at higher risk for decay.
You might, however, be concerned about the long-term health effects of these stronger concentrations of fluoride. Again, research indicates that the only long-term hazard associated with too much fluoride is a condition called fluorosis, which produces heavy tooth staining. Fluorosis, though, is more of an appearance issue and doesn't harm the tooth itself. And it can be avoided in the case of topical fluoride by performing the procedure correctly and conservatively.
There's also a short-term risk of a reaction to the fluoride mixture if the child swallows too much during the procedure, which could cause stomach upset and pain, vomiting or headaches. We can avoid this by using precautions like dental dams and other isolation methods to prevent the child from ingesting it.
Using proper precautions and procedures, topical fluoride is a safe and effective way to give your child added protection against decay. Avoiding this destructive disease can help ensure they'll enjoy good dental health for the rest of their lives.
If you would like more information on keeping your child's teeth and gums healthy, please contact us or schedule an appointment for a consultation. You can also learn more about this topic by reading the Dear Doctor magazine article "Fluoride Gels Reduce Decay."
By Carol Haddad, DMD
January 04, 2020
Besides their life-likeness, implants are also prized for their high success rate. More than ninety-five percent of implants continue to function effectively after ten years.
Implants' advanced technology explains some of their reliability and longevity—they're as close to natural teeth as we're now able to achieve. But their impressive success rate also owes to the detailed protocols that dentists follow to install them. One critical part of these protocols is ensuring a patient has enough bone in their jaw to support and precisely situate the implant for the best functional and aesthetic outcome.
Unfortunately, there are situations where a patient doesn't have enough bone to achieve a satisfactory result. This often happens if there's been months or years between losing the tooth and considering an implant. The reason why relates to the nature of bone as living tissue.
Like other cellular tissues in the body, bone has a life cycle: Older, worn-out cells die and are absorbed by the body, and new cells form to replace them. The growth cycle in the jaw receives stimulation from the forces generated when we chew, which travel up through the teeth to the bone.
However, this stimulation stops after tooth loss for the related area of bone, which can slow new bone growth. Over time, the volume and density of the bone around a missing tooth gradually decreases, enough eventually to make an implant impractical.
Insufficient bone volume, though, doesn't necessarily mean an implant is out of the question. We may be able to address the problem by attempting to regenerate the bone through grafting. This is a procedure in which we insert graft material into the affected area of the jawbone. The graft then becomes a scaffold upon which bone cells can grow.  After several months, we may have enough regenerated bone to support an implant.
If there's been too much bone loss, we may still need to consider another form of restoration. But if we can successfully build up the bone around your missing tooth, this premier restoration for replacing lost teeth could become a reality for you.
If you would like more information on dental implants, please contact us or schedule an appointment for a consultation.