Posts for: April, 2015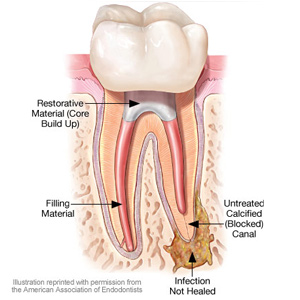 When decay spreads to the tooth's inner pulp, a root canal treatment may be necessary to save it. It's a common procedure: after removing all tissue from the pulp, the pulp chamber and root canals are filled with a special filling. The tooth is then sealed and a crown installed to protect the tooth from re-infection and/or fracture, possibly extending the tooth's life for many years.
Sometimes, however, the tooth doesn't respond and heal as expected: the number, size and shape of the patient's root canals may have complicated the procedure; there may have been a delay before installing the final crown or restoration or the restoration didn't seal the tooth as it should have, both occurrences giving rise to re-infection. It's also possible for a second, separate occurrence of decay or injury to the tooth or crown to undo the effects of successful treatment.
It may be necessary in these cases to conduct a second root canal treatment, one that may be more complicated or challenging than the first one. For one thing, if the tooth has been covered by a crown or other restorative materials, these will most likely need to be removed beforehand. In cases where the root canal network and anatomy are challenging, it may require the expertise of an endodontist, a dental specialist in root canal treatments. Using advanced techniques with microscopic equipment, an endodontist can locate and fill unusually narrow or blocked root canals.
Because of these and other possible complications, a root canal retreatment may be more costly than a first-time procedure. Additionally, if you have dental insurance, your particular benefit package may or may not cover the full cost or impose limitations on repeated procedures within a certain length of time. The alternative to retreatment, though, is the removal of the tooth and replacement with a dental implant, bridge or partial denture with their own set of costs and considerations.
The complications and costs of a repeated procedure, though, may be well worth it, if it results in a longer life for the tooth. Preserving your natural tooth is in most cases the most desired outcome for maintaining a healthy mouth.
If you would like more information on root canal treatments, please contact us or schedule an appointment for a consultation. You can also learn more about this topic by reading the Dear Doctor magazine article "Root Canal Treatment."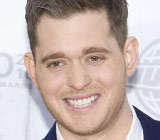 What happens if you're right in the middle of a song, in front of an arena full of fans… and you knock out a tooth with your microphone? If you're Michael Buble, you don't stop the show — you just keep right on singing.
The Canadian song stylist was recently performing at the Allphones Arena in Sydney, Australia, when an ill-timed encounter with the mike resulted in the loss of one of his teeth. But he didn't let on to his dental dilemma, and finished the concert without a pause. The next day, Buble revealed the injury to his fans on his Instagram page, with a picture of himself in the dentist's chair, and a note: "Don't worry, I'm at the dentist getting fixed up for my final show tonight."
Buble's not the only singer who has had a close encounter with a mike: Country chanteuse Taylor Swift and pop star Demi Lovato, among others, have injured their teeth on stage. Fortunately, contemporary dentistry can take care of problems like this quickly and painlessly. So when you've got to get back before the public eye, what's the best (and speediest) way to fix a chipped or broken tooth?
It depends on exactly what's wrong. If it's a small chip, cosmetic bonding might be the answer. Bonding uses special tooth-colored resins that mimic the natural shade and luster of your teeth. The whole procedure is done right here in the dental office, usually in just one visit. However, bonding isn't as long-lasting as some other tooth-restoration methods, and it can't fix large chips or breaks.
If a tooth's roots are intact, a crown (or cap) can be used to replace the entire visible part. The damaged tooth is fitted for a custom-fabricated replacement, which is usually made in a dental laboratory and then attached at a subsequent visit (though it can sometimes be fabricated with high-tech machinery right in the office).
If the roots aren't viable, you may have the option of a bridge or a dental implant. With a fixed bridge, the prosthetic tooth is supported by crowns that are placed on healthy teeth on either side of the gap. The bridge itself is a one-piece unit consisting of the replacement tooth plus the adjacent crowns.
In contrast, a high-tech dental implant is a replacement tooth that's supported not by your other teeth, but by a screw-like post of titanium metal, which is inserted into the jaw in a minor surgical procedure. Dental implants have the highest success rate of any tooth-replacement method (over 95 percent); they help preserve the quality of bone on the jaw; and they don't result in weakening the adjacent, healthy teeth — which makes implants the treatment of choice for many people.
So whether you're crooning for ten thousand adoring fans or just singing in the shower, there's no reason to let a broken tooth stop the show: Talk to us about your tooth-restoration options! If you would like additional information, please contact us or schedule an appointment for a consultation. You can learn more by reading the Dear Doctor magazine articles "Repairing Chipped Teeth" and "Dental Implants vs. Bridgework."