Posts for: January, 2016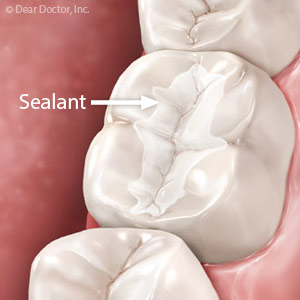 Taking care of your child's teeth is a high priority, not only for their health now but for the future too. And that means dealing with their teeth's most common and formidable enemy, tooth decay.
Your focus, of course, should be on preventing decay through good oral hygiene practices, a healthy diet low in foods with added sugar and regular office visits for cleaning and checkups. But some children at higher risk or who've already encountered tooth decay may also need a little extra help in the form of dental sealants.
The most common use of sealants addresses a weakness in young teeth that disease-causing bacteria exploit. Deep grooves known as pits and fissures form within the biting surfaces of developing back teeth and in the rear of front teeth.  It's very difficult to reach these areas with daily brushing, so some plaque may be left behind (hence the importance of semi-annual office cleanings).
Inside the mouth, these pits and fissures are in a warm and moist environment and are a haven for bacteria that feed on plaque and produce high levels of acid as a by-product. The acid softens enamel to eventually create a hole, or a "cavity" in the tooth. Children's young enamel is highly susceptible to this process — it hasn't developed enough strength to resist the adverse effects of acid.
A "pit and fissure" sealant made of resin fills in the grooves in the teeth to inhibit the buildup of plaque — a kind of "mini" filling. It's an added layer of protection that complements other prevention efforts. But applying them isn't an automatic practice — we only recommend it for children at high risk, especially where decay is beginning or it appears the conditions are conducive for it. When needed, though, it can be quite effective in preventing decay or minimizing its effects.
The best way to know if your child could benefit from a sealant is to have them undergo a complete dental exam. From there we can advise you on whether a sealant application is an important investment in their current and future health.
If you would like more information on dental disease prevention for children, please contact us or schedule an appointment for a consultation. You can also learn more about this topic by reading the Dear Doctor magazine article "Sealants for Children."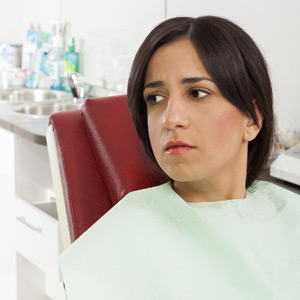 We always look forward to seeing our patients, but not all of you look forward to seeing us! If you're one of them, don't worry — we don't take it personally. Dental anxiety prevents many people from seeking the care they require to restore or maintain a healthy smile.
But if dental problems are allowed to progress, they can affect not only the beauty of your smile and health of your mouth, but your overall wellness, too. Infection can travel from the mouth to other areas of the body, and dental disease exacerbates chronic health conditions like heart disease or diabetes.
Overcoming Apprehension
Fear should never be an obstacle (in the immortal words of President Franklin Roosevelt, "…the only thing we have to fear is fear itself…"). And fortunately there are some safe options for those of us who can't get past our anxiety when it comes to dental care:
Oral Sedation. A sedative medication can be prescribed that you take by mouth approximately an hour before your dental visit to minimize anxiety and promote relaxation.
Intravenous (IV; "intra" – inside, "venous" – vein) Sedation. If oral sedation isn't entirely effective in facilitating treatment, then a medication combining a sedative for relaxation and a pain-blocking anesthetic can be delivered through or small needle or catheter that is gently inserted into a vein. This is referred to as "conscious sedation" because you are in a semi-awake state during which you are able to respond to verbal direction. It takes effect quickly, and you can come out of it quickly. However, you may not remember much about your procedure. It is very different from general anesthesia during which you are completely unconscious.
Safety First
Dentists who offer IV sedation receive extensive training after which we must pass an exam and apply for a special permit that we maintain through continuing education. We carefully screen patients for eligibility and monitor you throughout so you can rest easy before, during, and after your procedure.
If you would like more information about sedation in dental care, please contact us or schedule an appointment for a consultation. You can also learn more about the subject by reading the Dear Doctor magazine article "Oral Sedation Dentistry."