Posts for: August, 2016
By Carol Haddad, DMD
August 19, 2016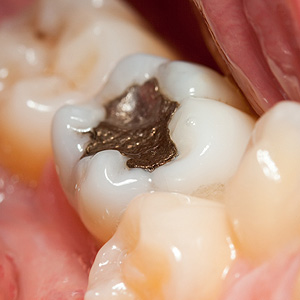 With all the new tooth-colored fillings for cavities, it's easy to overlook metal amalgam. While this mainstay of dental care for over a century might not be as attractive as composite resins or glass and resin ionomers, it still has the advantage of strength and durability.
Amalgam is a stable metal alloy usually made up of silver, tin, copper and mercury. The metals are proportioned and mixed precisely to guard against "free" mercury molecules, which could pose a health hazard. The mixture is pliable at first, but then sets hard once molded into the prepared area of the tooth.
Besides strength, amalgam's other advantages include low cost, high resistance to wear and biocompatibility (not toxic to the body or allergy-producing). At the same time, it can require more tooth structure removal to accommodate a filling and cause higher sensitivity to temperature for a while after installation. Its main disadvantage, however, is appearance — it's now considered unacceptable from an aesthetic point of view to use it in visible areas like the front teeth.
Because of this, materials resembling natural tooth color are coming into vogue, especially as their strength improves. Still, dental amalgam continues to play a useful role, especially in less visible back teeth with higher chewing forces.
One past concern about dental amalgam is the inclusion of mercury in the alloy. As mentioned before, mercury is hazardous in a "free" form when not knit microscopically with other metals; as such it can emit a vapor that could enter the bloodstream and damage the nervous system. But after several studies by various organizations, the American Dental Association has concluded amalgam's precise mixture prevents the mercury from taking this form: although some vapor is given off during chewing it's far too low in concentration to pose any danger.
Dental amalgam continues to be an effective choice for fillings. Whether it's the right choice for you will depend on the type and location of a tooth to be filled, and whether durability is a higher concern than appearance. If we do recommend an amalgam filling, you can be assured it's a safe and lasting choice.
If you would like more information on your choices for dental fillings, please contact us or schedule an appointment for a consultation. You can also learn more about this topic by reading the Dear Doctor magazine article "Silver Fillings — Safe or Unsafe?"
By Carol Haddad, DMD
August 04, 2016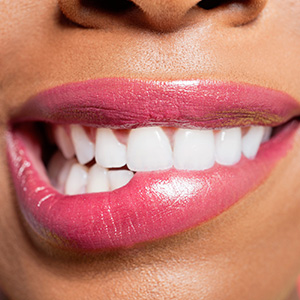 We've all done it — suddenly bit the inside of our mouth while chewing food. All too often our cheek, lip or tongue finds itself in the way of our teeth.
The small wound caused by these types of bites usually heals quickly. But it's also common for the natural swelling of these wounds to cause the skin to become prominent and thus more in the way when we eat. As a result we bite it again — and again. If bit a number of times, the old wound can form a bump made of tougher tissue.
Also known as a traumatic fibroma, this growth is made up of a protein called collagen that forms into strands of fibers, similar to scar tissue or a callous. As you continue to bite it, the fibers form a knot of tissue that becomes larger with each subsequent bite and re-healing.
Unlike malignant lesions that form relatively quickly, these types of lumps and bumps usually take time to form.  They're not injurious to health, but they can be irritating and painful when you re-bite them. We can alleviate this aggravation, though, by simply removing them.
The procedure, requiring the skills of an oral surgeon, periodontist or a general dentist with surgical training, begins with numbing the area with a local anesthetic. The fibroma is then removed and the area closed with two or three small stitches. With the fibroma gone, the tissue surface once again becomes flat and smooth; it should only take a few days to a week to completely heal with mild pain medication like ibuprofen to control any discomfort.
Once removed, we would have the excised tissue biopsied for any malignant cells. This is nothing to cause concern: while the fibroma is more than likely harmless, it's standard procedure to biopsy any excised tissue.
The big benefit is that the aggravating lump or bump that's been causing all the trouble is no more. You'll be able to carry on normal mouth function without worrying about biting it again.
If you would like more information on minor mouth sores and wounds, please contact us or schedule an appointment for a consultation. You can also learn more about this topic by reading the Dear Doctor magazine article "Common Lumps and Bumps in the Mouth."