Posts for: May, 2017
By Carol Haddad, DMD
May 25, 2017
When it's time for your child to visit the dentist (we recommend around their first birthday), you may want them to see your family dentist. But you might also want to consider another option: a pediatric dentist.
The difference between the two is much the same as between a pediatrician and a family practitioner. Both can treat juvenile patients — but a family provider sees patients of all ages while a pediatrician or pediatric dentist specializes in patients who haven't reached adulthood.
Recognized as a specialty by the American Dental Association, pediatric dentists undergo about three more years of additional post-dental school training and must be licensed in the state where they practice. They're uniquely focused on dental care during the childhood stages of jaw and facial structure development.
Pediatric dentists also gear their practices toward children in an effort to reduce anxiety. The reception area and treatment rooms are usually decorated in bright, primary colors, with toys and child-sized furniture to make their young patients feel more at ease. Dentists and staff also have training and experience interacting with children and their parents to help them relax during exams and procedures.
While a pediatric practice is a good choice for any child, it can be especially beneficial for children with special needs. The "child-friendly" environment is especially soothing for children with autism, ADHD or other behavioral/developmental disorders. And pediatric dentists are especially adept in treating children at higher risk for tooth decay, especially an aggressive form called early childhood caries (ECC).
Your family dentist, of course, can presumably provide the same quality care and have an equally welcome environment for children. And unlike a pediatric dentist who will typically stop seeing patients when they reach adulthood, care from your family dentist can continue as your child gets older.
In the end it's a personal choice, depending on the needs of your family. Just be sure your child does see a dental provider regularly during their developing years: doing so will help ensure a lifetime of healthy teeth and gums.
If you would like more information on visiting a pediatric dentist for your child's dental needs, please contact us or schedule an appointment for a consultation. You can also learn more about this topic by reading the Dear Doctor magazine article "Why See a Pediatric Dentist?"
By Carol Haddad, DMD
May 10, 2017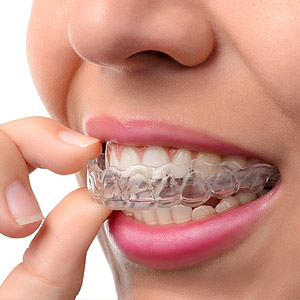 Your teenager is about to take a big step toward better health and a more attractive appearance — orthodontic treatment. You both know the benefits: better chewing function, lower risk of dental disease, and, of course, a straighter and more beautiful smile.
But your teen might also dread the next couple of years of wearing braces. And it's hard to blame them: although they're effective, wearing braces restricts eating certain snacks and foods, they require extra time and effort for brushing and flossing, and they're often uncomfortable to wear. And of high importance to a teenager, they may feel embarrassed to wear them.
But over the last couple of decades a braces alternative has emerged: clear aligners. This form of bite correction requires fewer food restrictions, allows greater ease in hygiene, and is considered more attractive than braces. In fact, most observers won't notice them when a wearer smiles.
Clear aligners are a series of clear plastic trays created by computer that are worn in a certain sequence. During wear each tray exerts pressure on the teeth to gradually move them in the desired direction. The patient wears a single tray for two weeks and then changes to the next tray in the sequence, which will be slightly different than the previous tray. At the end of the process, the teeth will have been moved to their new positions.
Clear aligners aren't appropriate for all bite problems. When they are, though, they offer a couple of advantages over braces. Unlike braces, a wearer can remove the aligner to brush and floss their teeth or for rare, special or important social occasions. And, of course, their appearance makes them less likely to cause embarrassment while wearing them.
In recent years, design improvements have increased the kinds of bites aligners can be used to correct. For example, they now often include "power ridges," tiny features that precisely control the amount and direction of pressure applied to the teeth. They've also become thinner and more comfortable to wear.
If you're interested in clear aligners as a treatment option, talk with your orthodontist about whether your teen is a good candidate. If so, they could make orthodontic treatment for achieving a more attractive and healthy smile less of an ordeal.
If you would like more information on clear aligners as an orthodontic option, please contact us or schedule an appointment for a consultation. You can also learn more about this topic by reading the Dear Doctor magazine article "Clear Aligners for Teens."