Posts for: October, 2020
By Carol Haddad, DMD
October 20, 2020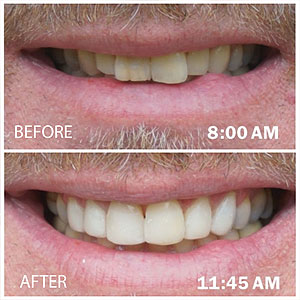 Orthodontics, veneers and other cosmetic dental techniques can turn a less than perfect smile into a beautiful one—but not always very quickly. For example, porcelain veneers can take weeks from planning to installation, including the meticulous work of an outside dental lab to produce veneers that look natural as well as beautiful.
But you may be able to take advantage of another approach, one that often takes no more than a couple of dental visits. Called direct veneers, it's actually a process of bonding and sculpting life-like composite materials to teeth that are heavily stained, chipped or that contain tiny crevices called "craze lines."
Unlike the similarly-named traditional method, direct veneers don't involve the creation of layered porcelain veneers fashioned by a dental lab. But this newer process is similar to the older one in that some of the enamel must be removed from the teeth in question to provide a suitable surface for the composite material to adhere. This alteration will be permanent, requiring a restorative covering on the treated teeth from then on.
Right before this preparation, though, a dentist typically makes an impression of the patient's mouth. This will be the basis for creating the procedural plan for the dental work, particularly a "trial smile" from similar composite material that can be applied to the patient's teeth before actual restoration work begins. This temporary application gives both patient and dentist an opportunity to visualize the final look, and make needed adjustments in color and shaping.
Once the work plan is finalized, the patient then returns for the actual restoration procedure. The dentist begins by applying and bonding the composite material to the prepared teeth. Then, using a drill and manual instruments, the dentist shapes and smooths the material into a tooth-like appearance that blends with other teeth. The procedure can take a few hours, but it can usually be completed during a single visit.
Although direct veneers may not last as long as porcelain veneers, the process is less costly and requires less time to complete. Direct veneers could be an economical solution for achieving a more attractive smile.
If you would like more information on direct veneers, please contact us or schedule an appointment for a consultation. You can also learn more about this topic with a firsthand patient account by reading the Dear Doctor magazine article "A New Smile With Direct Veneers."
By Carol Haddad, DMD
October 10, 2020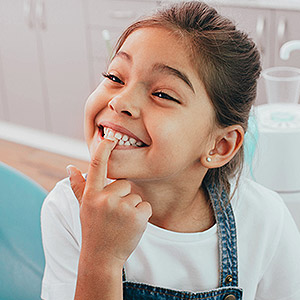 Being a parent can be a rewarding role. But it's also hard work, especially the effort required in keeping children healthy. In that respect, there's one area you don't want to overlook—their dental health.
Taking care of their teeth and gums has two aspects: their current state of dental health and their ongoing development that impacts future health. Fortunately, you can address both the present and the future by focusing on the following areas.
Prioritizing oral hygiene. From the moment your child is born, you'll want to practice daily oral hygiene to keep their teeth and gums clean of disease-causing bacterial plaque. This starts even before teeth erupt—simply wipe their gums with a clean wet cloth after feeding. As teeth emerge, begin brushing each one with a small amount of toothpaste. Around your child's second birthday, start training them to brush and floss on their own.
Limit their sugar intake. The biggest threat to your child's teeth is tooth decay, which is caused by bacteria. These bacteria multiply when they have plenty of sugar available in the mouth, one of their primary food sources. It's important then to reduce the sugar they eat and limit it to mealtimes if possible. Also avoid sending them to bed with a bottle filled with sweetened liquids, including juices and even formula.
Visit the dentist. You're not in this alone—your dentist is your partner for keeping your child's teeth healthy and developing properly. So, begin regular visits when your child's first teeth appear (no later than their first birthday). You should also consider having your child undergo an orthodontic evaluation around age 6 to make sure their bite is developing properly.
Practice oral safety. Over half the dental injuries in children under 7 occur in home settings around furniture. As your child is learning to walk, be aware of things in your home environment like tables and chairs, or hard objects they can place in their mouths. Take action then to move these items or restrict your child's access to them.
Good habits in each of these areas can make it easier to keep your child's teeth and gums healthy and on the right developmental track. That means good dental health today that could carry on into adulthood.
If you would like more information on children's dental care, please contact us or schedule an appointment for a consultation. You can also learn more about this topic by reading the Dear Doctor magazine article "Top 10 Oral Health Tips For Children."