Posts for tag: root canal
By Carol Haddad, DMD
July 19, 2021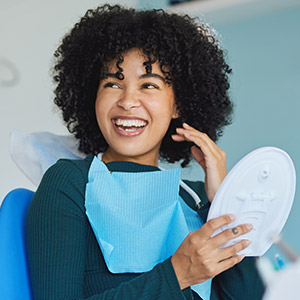 Root canals often get a bum rap. Although the procedure saves millions of teeth every year, it's often erroneously portrayed as an unpleasant experience. And if that wasn't enough, a long-discredited medical theory has found new life on the internet asserting root canals are a health danger.
First off, root canals play an immensely important role in treating teeth with advanced decay. If not promptly treated, a cavity can turn into a major infection of the interior tooth pulp and root canals, and ultimately the supporting bone. Teeth with this level of decay are not long for this world.
A root canal treatment stops this disease process in its tracks. After numbing the tooth and surrounding gums, we drill a small hole into the tooth's interior and then remove all of the infected tissue within the pulp and root canals. After disinfecting these areas, we fill them with a rubber-like substance called gutta percha.
After sealing off the access hole—and later capping the tooth with a life-like crown—the tooth is secure from further decay. And, by the way, the procedure doesn't hurt, thanks to local anesthesia. If anything, any pain caused by the decay attacking the tooth's nerves has now been alleviated.
So, what about the idea floating on the Web that root canals are dangerous? The "root" for this conjecture is a theory by Weston Price, an early 20th Century dentist, that leaving a "dead" body part in the body leads to various health problems (including cancer). That would include a root-canaled tooth, which has had the living tissue in the pulp removed.
There's just one problem—Weston's theory was fully investigated in the 1950s and overwhelmingly discredited. The supposed cancer threat was also reviewed in a 2013 study, which found no link between root canals and increased cancer risk. In fact, dental patients who had undergone several root canals had a diminished risk.
Like all other health procedures, root canals have some risks of complication. But those complications are far from life-threatening—it's tooth-saving benefits are often worth the risk. So, fear not if your dentist says you need a root canal. It won't hurt and it won't endanger your health—and it could save your tooth.
If you would like more information on root canal therapy, please contact us or schedule an appointment for a consultation. You can also learn more about this topic by reading the Dear Doctor magazine article "Root Canal Safety."
By Carol Haddad, DMD
June 29, 2021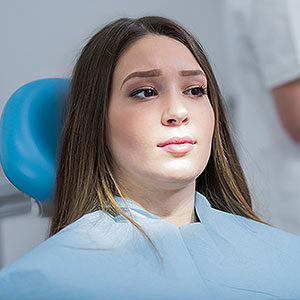 Here's the bad news: One of your teeth has tooth decay. But here's even worse news: The decay has entered the pulp and root canals in the heart of the tooth. You're well on your way to losing that tooth.
But cheer up—root canal therapy might save your decayed tooth. We use root canal therapy to remove the infection from within a tooth and then fill the resulting empty spaces to prevent further infection. This routine procedure has saved millions of teeth.
But alas, along the way root canals somehow became a cultural symbol for unpleasantness. In reality, there's nothing further from the truth—the procedure itself is painless, and may even stop any pain caused by tooth decay.
So, let's take the mystery out of root canal therapy—the more you know, the less wary you'll feel. Here's what to expect if you undergo this tooth-saving procedure.
Preparation. We start by numbing the tooth and surrounding gums with local anesthesia. While we're waiting for the anesthesia to take full effect, we isolate the tooth with a dental dam to prevent cross-contamination to other teeth.
Access. Next, we drill a small opening into the tooth to access the pulp and root canals. If it's one of the large back teeth, we drill the hole in the tooth's biting surface; in a narrower front tooth, we make the access opening in the rear surface.
Removal. We remove tissue from the pulp and root canals using special instruments. Afterward, we thoroughly disinfect the pulp and canal interiors with an antibacterial solution to ensure we've stopped the infection.
Filling. After re-shaping the root canals, we fill them and the pulp chamber with gutta percha, a rubber-like material ideal for this type of dental situation. We then fill and seal the access hole. In a few weeks, you'll return to have a permanent crown installed to further protect the tooth.
You may have some minor discomfort that's usually manageable with mild pain relievers, and should dissipate over a few days. The good news, though, is that we've more than likely saved a tooth that might have otherwise been lost.
If you would like more information on treating a decayed tooth, please contact us or schedule an appointment for a consultation. You can also learn more about this topic by reading the Dear Doctor magazine article "A Step-By-Step Guide to Root Canal Treatment."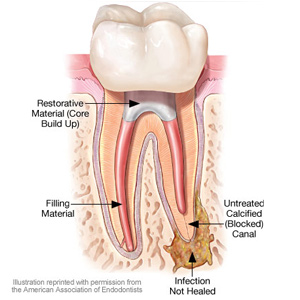 When decay spreads to the tooth's inner pulp, a root canal treatment may be necessary to save it. It's a common procedure: after removing all tissue from the pulp, the pulp chamber and root canals are filled with a special filling. The tooth is then sealed and a crown installed to protect the tooth from re-infection and/or fracture, possibly extending the tooth's life for many years.
Sometimes, however, the tooth doesn't respond and heal as expected: the number, size and shape of the patient's root canals may have complicated the procedure; there may have been a delay before installing the final crown or restoration or the restoration didn't seal the tooth as it should have, both occurrences giving rise to re-infection. It's also possible for a second, separate occurrence of decay or injury to the tooth or crown to undo the effects of successful treatment.
It may be necessary in these cases to conduct a second root canal treatment, one that may be more complicated or challenging than the first one. For one thing, if the tooth has been covered by a crown or other restorative materials, these will most likely need to be removed beforehand. In cases where the root canal network and anatomy are challenging, it may require the expertise of an endodontist, a dental specialist in root canal treatments. Using advanced techniques with microscopic equipment, an endodontist can locate and fill unusually narrow or blocked root canals.
Because of these and other possible complications, a root canal retreatment may be more costly than a first-time procedure. Additionally, if you have dental insurance, your particular benefit package may or may not cover the full cost or impose limitations on repeated procedures within a certain length of time. The alternative to retreatment, though, is the removal of the tooth and replacement with a dental implant, bridge or partial denture with their own set of costs and considerations.
The complications and costs of a repeated procedure, though, may be well worth it, if it results in a longer life for the tooth. Preserving your natural tooth is in most cases the most desired outcome for maintaining a healthy mouth.
If you would like more information on root canal treatments, please contact us or schedule an appointment for a consultation. You can also learn more about this topic by reading the Dear Doctor magazine article "Root Canal Treatment."